Wildfire is a very real threat to the area given the heavily treed nature of the District. It is important to be aware of the inherent fire risks and do your part to mitigate the potential for wildfire. The District has invested over $500,000 in mitigation efforts.
According to the SMFRA Community Wildfire Protection Plan (CWPP), the wildfire risk of HPFMD is High because few homes in this wildfire-prone ecosystem have adequate defensible space and many have flammable native or ornamental landscaping adjacent to the structure. Many homes have irrigated lawns and rock/stone landscaping with flammable vegetation interspersed.
Fire History Although HPFMD was built within a wildfire-prone ecosystem, it has not experienced a large wildfire since it was established in the 1990s. Between 2010 and 2014, only two wildfires have burned in this community (Station 43's first-due neighborhood) and none of them has burned more than approximately one half acre.
 2010: 9250 Wild Elk Place
2012: 5171 Shade Tree Lane
The Burning Tree Fire, which ignited March 24, 2011, threatened this community, but did not enter it. A combination of hot temperatures, dry fuels and strong winds caused a small fire ignited by fireworks to grow into a 1,600-acre blaze that threatened scores of homes and caused the sheriff's office to evacuate HPFMD and other communities. The wildfire stopped growing when a cold front passed the area, causing the winds to blow from the north and push the fire back onto burned fuels.
Neighborhood Mitigation Planning Guide – SMFR
The Douglas County Wildfire Mitigation Program's primary mission is to reduce wildfire hazard and loss to residents, property, and natural resources by emphasizing courtesy forestry and wildfire hazard assessments for home and property owners within the County.  If you have forestry, wildfire questions or would like to request a free Wildfire Hazard Assessment on personal property please contact Jill Welle, Wildfire Mitigation Specialist at 303-660-7497.
IS YOUR HOME PROTECTED?

Follow These Checklists to Prepare Your Home for Wildfire
Take these practical steps to increase the likelihood your home survives a wildfire by addressing the home ignition zone, which is the home itself and the area around it. This will minimize the ability of your home to ignite during a wildfire, in part by reducing or eliminating nearby fuels.
The home ignition zone requires regular, ongoing maintenance to be effective. Trees, grasses and shrubs continue to grow, die and drop leaves each season, and there are ongoing maintenance needs for any structures on your property. Follow these steps to maintain the home ignition zone.
Top Priorities for Structural Ignitability
Ensure the roof has a Class A fire rating
Remove all leaves, needles and other debris from all decks, roofs and gutters
Screen attic, roof, eaves and foundation vents with 1/8-inch metal mesh
Screen or wall-in stilt foundations and decks with 1/8-inch metal mesh
Use tempered glass for windows; two or more panes are recommended
Create 6 inches of vertical clearance between the ground and home siding
Replace combustible fencing or gates, at least within 5 feet of the home
Top Priorities for Defensible Space
Mow grass and weeds to a height of 4 inches or less.*
Rake and remove all pine needles and other flammable debris from a 5-foot radius around the foundation of your home and deck.*
Treat or mow shrubs that re-sprout aggressively (such as Gambel oak) every 3-5 years or more depending on growth rates.
Remove branches that hang over the roof and chimney.
Dispose of slash from thinning trees and shrubs by chipping, hauling to a disposal site or piling in open areas for burning later. Any accumulation of slash that's chipped or otherwise should be isolated 30 feet or more from the home.*
Avoid creating continuous areas of wood chips on the ground when chipping logs and/or slash. Break up the layer of wood chips by adding nonflammable material, or allow for wide gaps of at least 3 feet between chip accumulations.
*Address as needed, more than once a year.
Firewood
Keep firewood stacked uphill from (or at the same elevation as) any structures, and keep the woodpile at least 30 feet away from the home.
Do not stack firewood between remaining trees, underneath the deck, or on the deck.
Remove flammable vegetation within 10 feet of woodpiles.
Propane Tanks
Keep aboveground tanks at least 30 feet from the home, preferably on the same elevation as the house.
Remove flammable vegetation within 10 feet of all propane tanks and gas meters.
Driveways
Maintain at least 10 feet between tree crowns and keep trees a minimum of 30 feet back from each side of the driveway along the entire distance from the house to the main access road.
Remove any remaining ladder fuels beneath trees after thinning.
Remove any shrubs that are within 10 feet of the outer edge of tree crowns.
Space shrubs apart at least two-and-a-half times their mature height, as measured from the edge of the shrubs.
Post signs at the end of the driveway with your house number that are noncombustible, reflective and easily visible to emergency responders.
Solutions for Managing Slash
Properly thin and prune trees and shrubs as you address the home ignition zone. The sticks and other debris left from cutting trees and shrubs is called slash. Slash is a fuel for wildfire, so ensure this debris is properly managed on your property. It is critical that any slash is located as far from your house as possible:
Spread slash and wood chips over a large area of ground to avoid heavy accumulations and large piles. Being close to the ground will help speed decomposition.
Burn slash piles, but before doing so, always contact your county sheriff's office or local fire department for current information or possible restrictions.
Lop and scatter slash by cutting it into small pieces (generally less than 24 inches long) and distributing it over a wide patch of ground, to a depth not exceeding 18 inches. Material over 4 inches in diameter should not be scattered.


Take advantage of community resources! Douglas County offers a free slash/mulch site from April to October. Acceptable items include tree limbs, branches, shrubs, loose pine needles, and brush with a maximum length of 6 feet and a maximum diameter of 12 inches. All loads must be covered when they arrive at the site.
Make a plan to protect your home and your family, read more about preparation, evacuation checklists, tax credits, and more in the guide Ready Set Go – SMFRA

Why is it important to manage the foliage surrounding your home and property? What are the advantages of thinning out targeted areas of vegetation? What are the benefits to the ecosystem from this process?
Watch to learn more https://youtu.be/quqPePsSXm8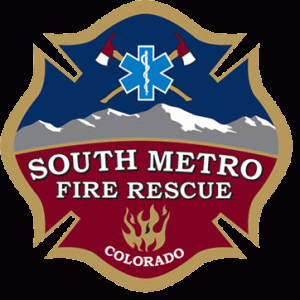 Colleen Potton
Community Risk Reduction Specialist
South Metro Fire Rescue
303-419-8807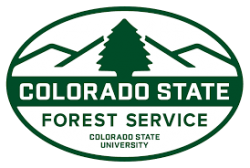 Colorado State Forest Service
Franktown Field Office
PO Box 485
2068 N. State Hwy. 83
Franktown, CO 80116
(303) 660-9625; FAX (303) 688-2919
CSFS_Franktown@mail.colostate.edu
The office is north of the intersection of Highway 86 and Highway 83 in Franktown (see map below).
For guidance, or to consult a natural resource professional, fire department or local organization appropriately trained in wildfire mitigation practices.
For more information on available grants to be used for fire mitigation start here